Finding a good and satisfactory transportation service is not always that easy. Considering how many cars and transportation companies offering such services, it could be really tricky to figure out which is the right one for you. Of course, one of the most important concerns you have is the comfort you will get as you hire a particular kind of car or limousine. Thus, it is important that you be aware of what your options are. By knowing what types of cars are available from a transportation service company, you will have a better idea of what you will choose for your particular needs.
SUVs
SUV limos are extremely versatile vehicles. An SUV limousine is the perfect ride for families with children and for high-profile individuals or celebrities.
For Families: An SUV limousine is greatly suitable for families with children. The interior is child-friendly, with baby seat hooks, wireless DVD headphones and spacious area for strollers and bags.
For Celebrities: SUVs are very popular among celebrities with entourage. For this group of people, an SUV offers inconspicuous, comfortable and safe transportation. Most SUVs are also equipped with satellite TV, Wi-Fi internet, and XM radio.
For Executives: SUVs are typically the first choice for executives. With a spacious and comfortable seating for six people, SUVs are excellent for out of town business meetings. Needless to say, an SUV limousine service is the perfect way to have a classy and luxurious corporate image.
Capacity: 6 passengers with captain's chairs, 7 with middle bench seat
Comfortable Capacity: 5 passengers with captain's chairs, 6 with middle bench seat
Luggage Capacity: 4 large bags plus 3 carry-on
Limousines
A stretch limousine can certainly turn any simple and ordinary occasion into a special event. There is no way you won't enjoy being in a limo with amenities like stereo systems, mood lighting and flat screen TVs.
Stretch limos are available in three varieties – six, eight, and ten seating capacities. Lincoln Town Car is the most popular body style, followed by the Cadillac DTS and the Chrysler 300. Each of these limos are perfect for proms, weddings, and night-outs.
When it comes to amenities, you will surely love that a stretch limo service offers a lot, such as complimentary decanters, beverages and drinking glasses. There will also be a flat screen TV with DVD players. You can also enjoy privacy dividers, mood lighting and stereo systems.
Comfortable Capacity: 4-10 passengers
Six-Pack (6 passengers), Eight-Pack (8 passengers), Ten Pack (10 Passengers)
Luggage Capacity: 2 large bags + 3 carry-ons
Town Cars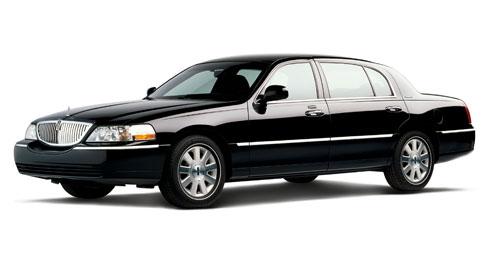 If it's about car service, there is no doubt that the Town Car is the king. This luxury sedan is among the best in terms of comfort, room and outstanding driving experience.
Through the years, Town Cars have remained an essential part of any business travel. While this used to be available only to the rich, it has become a reliable and perfect alternative to taxi cabs. You will have your bottled water, some sweets and the latest issues of magazines in the back seat for your comfortable business trip.
Capacity: 4 passengers
Comfortable Capacity: 3 passengers
Luggage Capacity: 3 large bags and 3 small bags